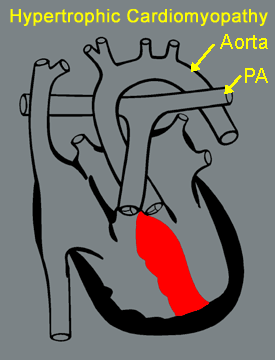 (rollover to compare with normal)
What Are Its Effects?

The enlarged ventricular septum may obstruct the outlets to the aorta and/or pulmonary artery (PA), causing a heart murmur. This is known as Obstructive Hypertrophic Cardiomyopathy. However, there is no obstruction and therefore no murmur in the majority of cases.

Many patients experience no symptoms except during periods of exertion, when chest pain and shortness of breath may occur. Hypertrophic cardiomyopathy may also cause fainting spells, arrhythmia (irregular heart beat), heart failure, or even death. Patients with severe hypertrophic cardiomyopathy are at risk of dying suddenly from abnormal heart rhythms.