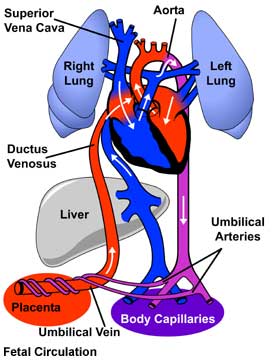 (rollover to compare with normal)
Postnatal Changes

At birth, the lungs inflate, decreasing pulmonary vascular resistance to flow of blood from the right ventricle. The resultant increase in pulmonary blood flow leads to an elevation in left atrial pressure, which normally causes the septum primum flap to seal against the foramen ovale, closing the aperture and effectively separating the two atria. This also increases blood flow to the lungs, as blood entering the right atrium can no longer bypass the right ventricle and is now pumped through the pulmonary artery into the lungs.

Patent Foramen Ovale

Sometimes the septum primum flap fails to seal the foramen ovale after birth and the shunt remains open. This is termed a patent (or open) foramen ovale (PFO). As the heart grows in size, the PFO also increases in size.

The PFO opening allows the shunting of blood between the left and right atria. Generally, because of the higher pressure in the left atrium, oxygenated blood shunts from the left atrium into the right atrium (a left to right shunt). This oxygen-rich blood is then pumped into the right ventricle and through the pulmonary artery to the lungs rather than to the body tissues, which decreases circulatory efficiency.

As many as 27% of all adults have a patent foramen ovale (based on autopsy studies), though only 10-15% are detectable through echocardiography. In most cases, there are no associated symptoms and no treatment is prescribed. However, there is increasing evidence that PFOs are implicated in strokes through the encouragement of embolism (clot) formation. Migraine headaches are also associated with a PFO in some patients.