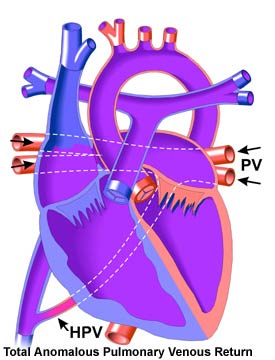 (Rollover Image)

PV = Pulmonary Veins
HPV = Hepatic Portal Vein
Total Anomalous Pulmonary Venous Return and the Adult Patient

As repair of TAPVR requires extensive atrial surgery, arrhythmias may develop with time (e.g. supraventricular tachycardia), requiring treatment. Other problems that may arise include post-operative obstruction of the pulmonary veins, pulmonary vascular disease, a residual atrial septal defect (ASD), or an anomalous pulmonary vein that was overlooked during surgery.

Significant pulmonary vein stenosis may require repeat operations to lower pulmonary artery pressures. Persistent anomalous pulmonary veins may not require repair if the resultant left to right shunt is small.