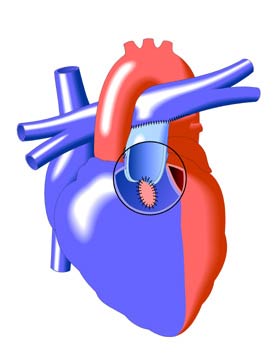 A prosthetic valved conduit (light blue) is attached to the pulmonary artery branches and the right ventricle. The ventricular septal defect is also closed (pink patch).
Absent Pulmonary Valve Repair

When right heart failure is caused by insufficiency of the pulmonary valve and pulmonary artery pressures are normal, it is necessary to implant a functional pulmonary valve. Options for new prosthetic valves include aortic or pulmonary homografts (human) or other bioprosthetic valved conduits, such as bovine internal jugular vein (Contegra®) or porcine bioprostheses (Hancock ®), among others.

Valve placement is normally performed surgically (see illustration), though recent experimental studies (Bonhoeffer and associates) have demonstrated the potential for a transcatheter approach.

Pulmonary valve replacements are usually performed without significant risk and result in a decrease in symptoms as well as improved right ventricular function. As with all patients who have undergone valve replacements, these patients should be monitored for pulmonary valve efficiency.

Most surgically implanted valves will last 10-20 years before they wear out, become obstructed, or lose efficiency. When their function becomes impaired for any of these reasons, replacement becomes necessary.